The area's largest selection of skis
INTERSPORT Kitzsport boasts the Kitzbühel area's largest selection of skis, ski boots and ski helmets for beginners, professionals, freeriders and ski racers! We've got it all: master-class racing skis from top brands such as Head, Fischer, Rossignol, Nordica and Atomic, as well as freeriding skis from exclusive brands such as Volant, or even our exclusive Kitzbüheler Ski!
Kitzbüheler Ski: The legend has returned
Once upon a time, we built the fastest skis in the world. Revived in 2016, they are now back as part of a limited edition! Today's modern all-round skis combine the latest technology with nostalgic designs and highest-quality materials.
Even better, you can do the matching Après-Ski outfit from the exclusive Kitzbüheler Ski Fashion collection featuring trendy and functional sweatshirts and cardigans, elegant polo shirts, cool T-shirts, beanies and much more.
The entire Kitzbüheler Ski collection is available from our online shop and in-store from INTERSPORT Kitzsport.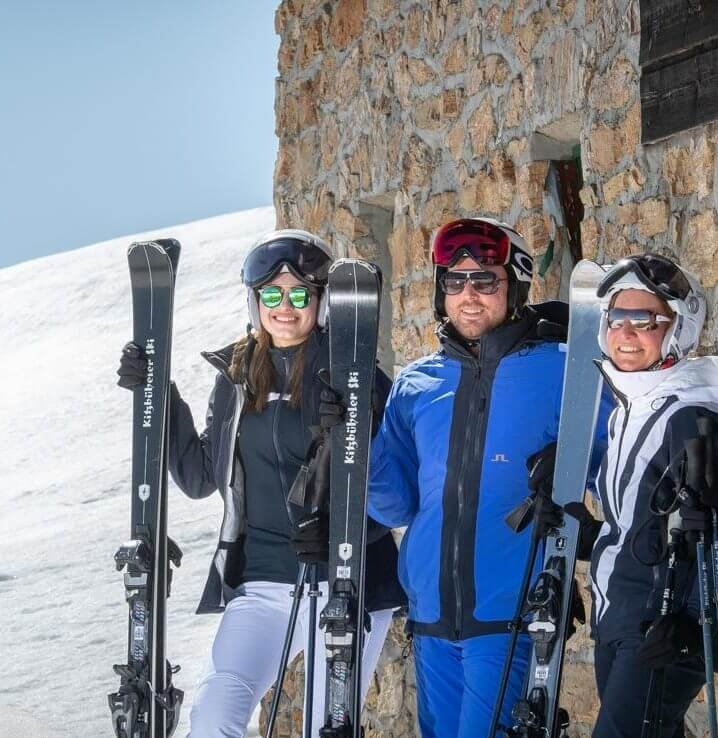 Swap in your used skis
Admittedly, we've got a soft spot for used skis! When buying new skis, Kitzsport customers can turn in their old pair of skis for an exchange premium (dependent on age and condition of the skis).
Test your skis for free: Test our skis so that you can select your special pair from amongst our vast selection. Best of all, you'll receive up to 2 days worth of rental fees back when purchasing a new pair. Enquire with our Kitzsport staff in regards to our "Test and Buy " promotion.
Ski boot fitting
Tailor-made ski boots for more comfort, safety and fun
Ski boots aren't the only first-class equipment we carry. Our latest boot fitting technologies take into account the specifics of your foot to make sure your new boots fit like a second skin. Proper fit is key because the right power transference ensures performance, endurance and safety while skiing. And don't forget: optimum fit also makes skiing more comfortable and enjoyable. In short: Those who invest in custom ski boots will enjoy the many benefits for several ski seasons to come.
Would you like to get personalised advice and have your ski boots properly fitted? Then simply visit us in store or arrange a convenient consultation appointment online.
Learn more about our boot-fitting technologies such as 3D-foot analysis, Fischer VACUUM FIT, Strolz made-to-measure boots or foot-supporting insoles.
INTERSPORT Kitzsport presents the very first 100% adaptable ski boot! For the very first time, Fischer VACUUM FIT technology achieves a complete anatomical fit for the entire boot (a feat previously unattained) for maximum quality! The simple, comfortable fitting takes about 20 minutes.

How it works: During the Fischer VACUUM FIT process, the ski boot shell is heated to 80°C and the customer steps into the shell with the inner boot on. A cooling and compression pad is then placed around the ski boot shell.
To ensure an optimal standing position, Fischer has developed a special VACUUM FIT Station, which serves as the centrepiece of the fitting process. The entire boot is then custom adapted to the foot using compressed air and keeps its shape after cooling. The Fischer VACUUM FIT can be reshaped up to five times.

The procedure guarantees maximum power transference to the skis:


Capable of transferring power to the precise direction of travel
Perfect power transmission
Maximum acceleration
Low effort required

The standing position is located exactly in the middle of the ski:

Perfect edge grip
Faster and easier edge changing

The natural V-position of the feet is maintained in the boot:

Better control
Less stress on the joints
The natural cycle of motion is maintained

The proven power of Strolz technology: As a first step, the footprint and foot volume are measured. Based on this data, the inner boot (made of leather) and the outer boot shell (made of polyurethane) are combined and adapted. During the trial fitting, the boot is filled with foam. Prior to this process, areas that require a certain amount of freedom of movement, like the instep, are padded out. This allows you to take into consideration, e.g.: pressure-sensitive areas of the foot, overly large inner or outer ankles, and adjustments for very wide or narrow feet.

The result: a boot that really fits 'like a glove' and does not allow any superfluous empty space for optimal power transmission. The boot holds the foot firmly in place with full, even pressure. You'll notice the difference that direct power transmission makes when steering the skis!